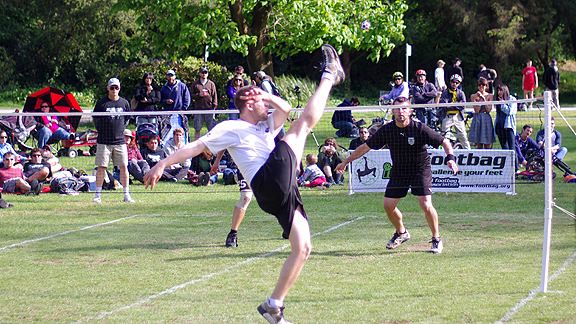 Gideon Rubin Aki Quebec's François Depatie-Pelletier (a.k.a. "Frank the Tank") hits a sweep shot in the doubles championship of the Green Cup toward Chaos' P.T. "Big Papa Petey" Lovern in San Francisco.
SAN FRANCISCO -- P.T. Lovern won his second straight world footbag doubles title in 2008 and all he got was a lousy sweatshirt.
Such is the life of a world-class footbagger, competing in a sport that's growing fast overseas but struggling for mainstream recognition in the U.S. An offshoot of hacky sack, footbag is played with a more tightly wound ball on a badminton-sized court using volleyball scoring.
"We fly all the way around world and play for nothing," said Lovern a 36-year-old world-class footbagger from Oakland, Calif. "True passion, that's what we have."
Lovern is the founder of Oakland-based club Chaos, which hosted the seventh annual Green Cup before a sparse crowd of about 100 on Memorial Day. His doubles team lost to archrival Aki Quebec - the sport's Manchester United equivalent -- in the premier event.
The Green Cup, a two-day event that concluded on Memorial Day in Golden Gate Park, featured 40 players from as far as Germany and Denmark.
Footbag has grown exponentially in Europe in recent years, with the 2009 world championships in Berlin featuring a rock-concert atmosphere and over 5,000 fans.
There are 427 clubs in 45 countries.
Tournament organizer and Chaos player Jack Harris said the sport is trying to shed its association with hacky sack, known as the pastime of dope-smoking hippies aimlessly kicking a ball around in circles.
Footbaggers hope to eventually attract corporate sponsors, and perhaps even X Games sanctioning.
The game demands a unique blend of strength, flexibility and technical precision. The learning curve is steep, typically requiring years of practice before players are competition-ready.
But the crowd-pleasing acrobatic kicks are worth the effort, Lovern said.
"It blows away the feeling of soccer and volleyball," Lovern said. "It's like mixing martial arts and volleyball."