MIAMI -- When Dwyane Wade got to town in 2003, DJ Irie made a point to connect with the Chicago-born, Milwaukee-schooled, Miami-uninitiated rookie.
"He was very green -- he didn't know anything about Miami," Irie said Wednesday. "He just said, 'Listen, man, if I want to go out or something, can I give you a call?' "
It happened. A working Irie even gave the pre-superstardom Wade a shoutout at a South Beach night club -- "and ever since then we've always been super, super tight," Irie said.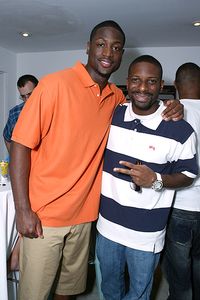 Alexandra Wyman/WireImageDwyane Wade and DJ Irie have been friends for years, and Irie actually has an NBA title ring.
Such is the life of the NBA's original team DJ, a man born Ian Grocher in St. Croix, developed on South Florida radio and in the clubs, and now an 11th-year member of the Heat going for championship ring No. 2 (yes, he has one from 2006). His position as official team DJ gives him much face time with Heat players, although he says he's closer to none on the current roster than Wade (even doing Wade's birthday parties).
Of course, Irie works a lot outside AmericanAirlines Arena. He's an intercontinental club DJ, founded the entertainment consulting company Artist Related, runs an annual Miami-based summer fund-raising weekend featuring athletes and celebrities (Irie Weekend, coming up later this month), and works with many of those celebs for their own events.
The closest one: Jamie Foxx, for whom he became a personal DJ almost by accident.
The story, according to Irie: About six years ago, Foxx was on vacation in Miami. And for three straight nights, Irie was working -- purely by coincidence -- the party/club Foxx chose to attend (something Foxx noticed). Irie also landed, independently of the star entertainer, a bit part in the Foxx film "Miami Vice," which was shooting that same year. Foxx also saw Irie do his thing at a Heat game.
Somewhere along the line, Foxx was impressed. Irie soon worked a birthday party for Foxx's sister, later went on tour with Foxx, and continues to spin for the star.
For now, though, Irie has Heat on his mind. But even that position almost didn't happen, as an offer from the Heat 11 years ago (they wanted some new entertainment when they moved from Miami Arena) was initially turned down; "I didn't think it was a good idea," he said. "Not for me. I said thanks, but no thanks."
A second meeting changed his mind, though. Now he's something of a pioneer, with teams such as the Trail Blazers, Warriors, Clippers and even baseball's Marlins employing DJs.
He's also an enthusiastic crowd leader, someone who's having fun while getting his name out there to all sorts of South Florida folks.
"I could literally walk down the street, and anyone from a 70-year-old lady ... to a 5-year-old kid would know who I am," Irie said, "which is amazing because a 5-year-old kid or a-70-year-old lady would never be in my nightclub. So it really opened up my reach."
Plus it got him a ring. Maybe two.