Maybe he should have stayed in Miami.
DJ Khaled, arguably the most famous season-ticket holder for the Miami Heat, skipped Thursday's NBA Finals Game 2 to appear as part of Hot 93.7's 10th annual Hot Jam concert in Hartford, Conn.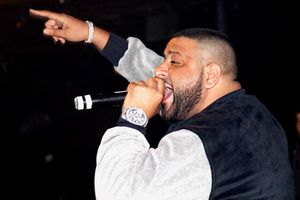 Johnny Nunez/WireImageDJ Khaled is a monster Miami Heat fan and is still confident they will win the title.
"I need to hurry up and get back to the hotel. I need to see my Heat," said Khaled, staring at his quite expensive steel watch. "Has it started yet? Is there a TV in my dressing room?"
That conversation happened around 9:20 p.m. ET, just when the game between his Heat and the Dallas Mavericks was beginning. Khaled had performed about 30 minutes as part of the summer tour, which includes Lupe Fiasco, Lloyd Banks and Fabolous. Friday, they head to Providence, R.I.
Well, on Thursday night, Khaled and his South Florida posse headed back to the hotel around halftime for dinner and some basketball. And the game didn't turn out as they had expected.
"I have no doubt we're going to take this series. I'm not worried," said Khaled, who has had courtside season tickets for the Heat for years. "We're going to win the championship. Sometimes you have to lose to be on top."
Born in New Orleans and of Palestinian descent, Khaled made a name for himself by moving to Miami and working as a disc jockey and then a record producer. He is always courtside at games with his buds Birdman, L'il Wayne and Mack Maine, among others. His fifth album and major label debut "We the Best Forever," a collaboration between his We The Best Music Group and Cash Money, was pushed from a June 28 release to July 19.
So Khaled and his label mates will be on the road for a few more weeks promoting that disc.
"I can't make it to Dallas for the next several games. I'm just too busy right now," Khaled said. "But, listen, it's over. The Heat has got this. Period."