Welcome back to another edition of Page 2 Jeopardy!, the quiz that tests your knowledge of sports, pop culture and assorted trivia. Please remember to phrase your responses in the form of a question.
(Correct questions at the end of the quiz.)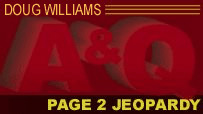 1. Answer: Tired of answering questions about the lockout, this NFL player has started his own show on YouTube called "Life of a Lock Out" to keep his followers up to date.
2. Answer: "He'd be unusual in any sphere of life," says author Michael Lewis of this out-of-work college football coach. "If he was a lawyer, he'd be an unusual lawyer. But as a football coach, he's a very unusual football coach."
3. Answer: "That dude is all hype," said this NBA player of Spanish guard Ricky Rubio -- who will finally join the Minnesota Timberwolves next season -- when they both were drafted in 2009.
4. Answer. This week, FIFA president Sepp Blatter was re-elected in a landslide, garnering 186 votes on the 203 ballots to top this opposing candidate.
5. Answer England's Luke Donald becomes the third golfer to top the world rankings in 2011, following this twosome.
Question 1: Who is is Sione Pouha?
Question 2: Who is Mike Leach?
Question 3: Who is Brandon Jennings?
Question 4: Who is No One?
Question 5: Who are Martin Kaymer and Lee Westwood?