He smiled and whispered in her ear ...
It was April 26, 1996. Game 1 of the first round of the NBA playoffs between the Detroit Pistons and Orlando Magic. I was then a short, skinny 15-year-old who barely knew how to shave. Earlier that day, I heard Mindy, the senior girl who I had crushed on, mention she would be attending the Magic game that night. Prom and graduation were weeks away. I needed to leave a lasting impression. Hence, I pulled out my ace in the hole, all seven feet of him. I asked her if she wanted to meet my buddy, Shaquille O'Neal. She said yes, albeit her family, including her brother, would be with her.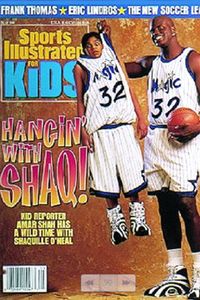 Courtesy of Amar ShahThat's Shaq lifting former high school reporter and now Page 2 contributing writer Amar Shah.
My sophomore year of high school was the sports version of "Almost Famous." Like Cameron Crowe's hero William Miller I became an aspiring journalist for national magazines before I even kissed a girl. My world wasn't rock 'n' roll, but the NBA. I would interview everyone from Michael Jordan to Grant Hill, but it was my bond with Shaq that defined those magically tinged, semi-charmed times. And now that he's retiring after 19 years in the league, it's hard not to wax wistfully on that short but significant time period when I could say Shaq and I were friends.
My sophomore year, I joined my high school paper as a staff writer. Obviously, I would need to wait in line to rise up the editorial hierarchy, but I wanted to try to do something more ambitious. Why couldn't a high school journalist get a press credential to a professional sporting event? I called the Magic's media relations department every day for a month until the team granted me a press credential to a Magic-Miami Heat preseason game.
On Oct. 24, 1995, my parents drove me to the Orlando Arena. Armed with a tape recorder, notepad and a cheap disposable camera, I approached the media entrance to pick up my credential. The security guard stared at me bemused. I gave him my name and my publication. He checked the list. I was there.
On the court, I spotted Penny, Dennis Scott and others warming up. I watched for a few minutes, then I headed toward the Magic locker room.