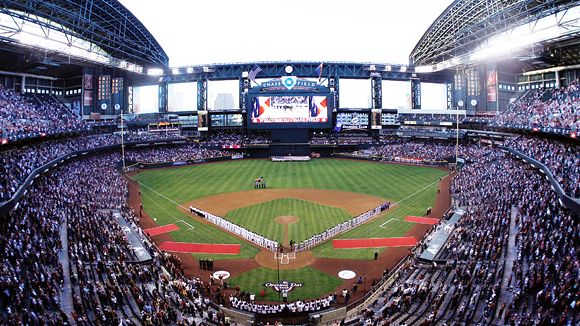 Jeff Gross/Getty ImagesChase Utley is just a career .197 at Chase Field, home of the Arizona Diamondbacks.
We apologize in advance for failing to find a person named 3Com Green or for pairing Jose Canseco with Conseco Fieldhouse, but we hope you enjoy the All-Venue Team nonetheless:
Kurt Busch: Like a good NASCAR conspiracy theory? Skeptics find it interesting that one of the best drivers in the stock-car world just happens to share his last name with one of the sport's biggest corporate partners, the former title sponsor of the secondary series. And with the home of the St. Louis Cardinals. For the record, this Busch has no apparent ties to the St. Louis brewery. In fact, he's in the Miller Lite camp.
Galen Cisco: The former MLB pitcher had the misfortune of playing for two expansion teams (1962 Mets and 1969 Royals), but here's hoping that the A's hoped-for future home in San Jose has better luck. Funding plans for the so-called Cisco Field have repeatedly fallen through, and the San Francisco Giants have been reluctant to abdicate their territorial rights over the area. In short, this is a problem that not even a leading communications technology company can resolve.
Mitch Gaylord: The four-time Olympic medalist in gymnastics is a California guy, but you'd be forgiven if you thought he had something to do with the Gaylord Entertainment Center, the one-time name of the NHL's Nashville Predators. In addition to becoming the first American to score a perfect 10 in Olympic gymnastics, he has dabbled in acting, appearing in a 1991 remake of "Dragnet" and several episodes of Hollywood Squares, among other gigs.
Ken McAfee: The three-time All-American tight end at Notre Dame played for the San Francisco 49ers, whose neighbors across the Bay in Oakland play in the oft-renamed facility once called McAfee Coliseum, an aging joint named after the software company specializing in ridding your computer from attackers. If ever there was a facility with a built-in nickname, this was it: The Virus. Befitting a stadium that frequently has more seats than patrons, the home of the A's and Raiders is now referred to as Overstock.com Coliseum.
Chase Utley: The Phillies' second baseman, who's making a cool $15,285,714 this season according to USA Today's salary database, could spend a lot of time at Chase Bank's ATMs if he felt like it. If he withdrew $20 at a time and each transaction lasted one minute, Utley wound need until Nov. 17, 2012 to empty the equivalent of this season's pay. Curiously enough, he's not especially comfortable at Chase Field in Phoenix, where he's a .197 lifetime hitter.