A year ago, the Bowman line of baseball cards from Topps set the collecting world ablaze with the high-dollar autograph cards and a one-of-a-kind SuperFractor card of Stephen Strasburg commanding some serious money.
Fast forward to this year's version, which recently arrived in hobby shops and retail stores and it's another No. 1 overall draft pick of the Washington Nationals who is commanding attention from packs of Bowman.
It's Bryce Harper.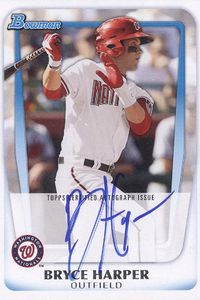 BowmanBryce Harper's trading card is getting major interest from fans.
Why? The product includes the first card -- and first autographed cards -- of the 18-year-old wearing a Nationals uniform. And the promise of what he might bring to the majors is what's drawing buyers in, despite his recently "slumping" numbers at Class-A Hagerstown where he's hitting .331 with 11 homers and 36 RBI through his first 50 games as a pro.
How much has that promise translated into dollar signs?
His first 2011 Bowman autograph card sold on eBay -- the easiest version to find -- for $1,150, though that version has ranged anywhere from $400 to $1,000 since. (The easiest Harper autograph to find falls one in roughly every 1,500 packs up to one in six-figures for the rarest.)
The rarer versions, though? They're commanding big pricetags, though not as many collectors are biting & yet.
The Orange version of the card -- one with orange borders and limited to just 25 serial-numbered copies -- has sold for as much as $3,600 recently on eBay, while a Blue card (yep, blue border, and limited to 250 copies) has sold for as much as $1,925. Another rare version -- Purple -- with the appropriately colored border is limited to just 55 copies. They have often gone unsold on the auction site with $5,000 and up asking prices, while the highest actual sale price in recent weeks was $1,775.
Topps, the lone licensee of MLB cards, signed Harper to an exclusive autograph deal last fall -- just like it did with Strasburg -- and has made him the face of the product this year. He appears on every box and every wrapper of cards produced.
Harper's cardboard has been strong before this as he appeared on a limited number of Aflac All-American cards made for the high school game which were then signed and placed into packs last fall after his deal was done. He also appeared on a USA Baseball card in last year's Bowman set with the rarest version being a one-of-a-kind SuperFractor that sold for $12,500.
The chase remains on for the rare versions of Harper's cards this year. So far, just a Bowman Red 1/1 card has been found in packs -- and it is presently on eBay with an asking price of $25,000 (or best offer).
The rarest autographed Harpers have yet to be found.