LONDON -- Opera great Placido Domingo has been asked by FIFA president Sepp Blatter to join a new committee intended to help clean up world soccer's governing body.
Blatter hopes the 70-year-old Spanish-born tenor will sit on a "council of wisdom" alongside former U.S. Secretary of State Henry Kissinger and former Netherlands player Johan Cruyff.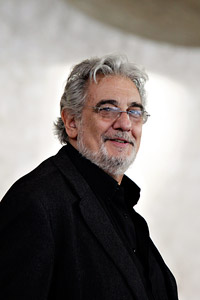 AP Photo/Bebeto MatthewsSpanish tenor Placido Domingo has been asked to lend his wisdom to a FIFA advisory council.
"These gentlemen are more or less advisers, they are not the experts ...," Blatter told CNN on Monday during a visit to Azerbaijan. "What they should be also is the kind of council of wisdom, which my executive committee would not like because they think they are the council of wisdom."
Domingo's best known involvement in soccer has been appearing at concerts before four consecutive World Cups from 1990 with Jose Carreras and Luciano Pavarotti, who were collectively known as The Three Tenors.
Announcing the invitation to Domingo to join the FIFA committee, Blatter said: "He is happy, he is proud that he is part (of it)."
Domingo could not be reached for comment.
Blatter also defended the decision to appoint the 88-year-old Kissinger, who has yet to make a firm commitment to become an adviser.
"People say he is an old man, but he is a wise man," Blatter said.
The committee will have the power to investigate and suggest solutions to problems as FIFA recovers from a bribery scandal, which saw executive committee members Mohamed bin Hammam and Jack Warner suspended from all soccer activities during the investigation.
After being elected last week to serve a fourth term as president, Blatter said he hopes to "bring back this credibility to FIFA."