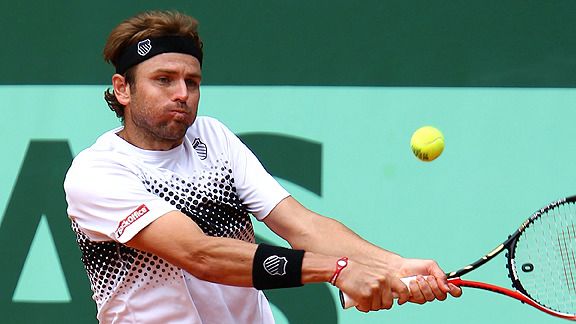 Clive Brunskill/Getty Images
In the Pro's Questionnaire, our favorite sports figures take our abridged version of most famous personality test, the Proust Questionnaire. American tennis player Mardy Fish is choosing to keep his feet planted on the ground, enjoy downtime at home with his wife and dog, and work on his jumping ability.
Your main fault:
Mardy Fish: Stubbornness, probably. Sometimes it gets me in fights with my wife.
Your idea of happiness:
MF: Being at home with my wife and my dog. We have a dachshund, a wiener dog, and her name is Charlie. Just being at home, spending the night with them is a perfect day.
Your idea of misery:
MF: Losing a couple of matches in a row to where it all starts snowballing.
If not yourself, who would you want to be?
MF: For just a day, I'd change places with Justin Timberlake and see how that is. To be talented at everything, that would be pretty cool.
Your favorite food/drink:
MF: My favorite food is probably pizza, and my favorite drink is an Arnold Palmer.