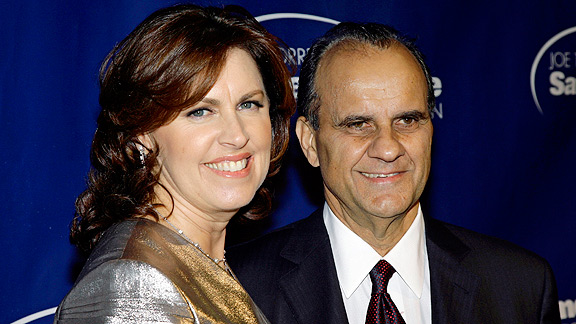 AP Photo/Stuart RamsonAli and Joe Torre started the Safe at Home Foundation to work to end the cycle of domestic violence.
Baseball legend Joe Torre isn't ashamed to talk about his abusive father anymore.
Growing up the youngest of five children in Brooklyn, N.Y., the 70-year-old Torre, who has managed four World Series winners, would watch as his police officer father physically abused Torre's mother and emotionally abused the children.
That violence was a well-kept secret until the mid-1990s, when Torre released his autobiography "Chasing the Dream: My Lifelong Journey to the World Series." In 2002, he and his wife, Ali, wanted to educate children about the issue of domestic violence, so they created the Joe Torre Safe At Home Foundation. The organization operates nine domestic violence resource centers throughout New York.
"No one wants to talk about domestic violence. We want to end the cycle. We want to do our part," said Torre, who now is MLB's executive vice president of baseball operations. "I was wondering why I was having self-esteem problems, so I got help. And, now, we want to educate the next generation of potential abusers out there to make sense of what's going on and not to go that way."
One organization that helped the launch of Torre's foundation was Samsung. On Tuesday night, Torre and many athletes and celebrities will take part in the 10th annual "Hope for Children" gala at the Cipriani Wall Street.
"Samsung was there for the very start. They nudged us to get involved in the charity for children," Torre said. "We're really thankful for their support. And tonight is a celebration of all these charities."
"Hope for Children" is Samsung's philanthropic commitment to help children lead healthier lives. Samsung works with U.S. retailers and a dedicated network of charitable organizations to spread awareness and propel advancements in children's education, healthcare and sustainability.
Bill Clinton will be honored as a recipient of the Samsung Ambassador Award. Scheduled performances by various celebrities whose charities benefit from Hope for Children include John Legend (The Show Me Campaign), Jason Mraz (The Jason Mraz Foundation), Branford Marsalis (New Orleans Habitat Musicians' Village) and Harry Connick Jr. (New Orleans Habitat Musicians' Village).
Special appearances will also be made by Torre, Jennifer Lopez (The Maribel Foundation), Demi Moore (Demi and Ashton Foundation), Dan Marino (The Dan Marino Foundation), Boomer Esiasion (The Boomer Esiason Foundation) and Jimmie Johnson (The Jimmie Johnson Foundation).
"We've made a lot of strides in helping children, but we have a long way to go," Torre said. "It's not about placing blame. It's about understanding why people feel that way and how we can help. It's really all about the children."