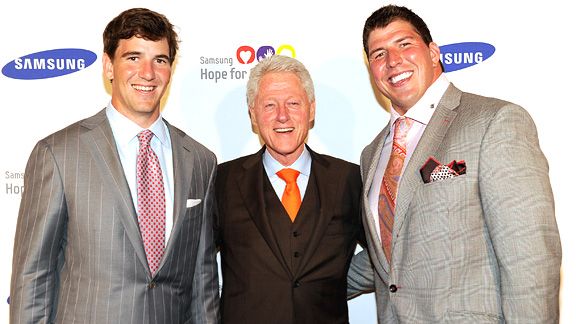 Kevin Mazur/WireImage Giants QB Eli Manning, President Bill Clinton and Giants lineman David Diehl attend the NYC gala.
Dan Marino. Jimmie Johnson. Demi Moore. Jennifer Lopez. And President Bill Clinton.
All were in New York Tuesday night to help Samsung raise $1.4 million at the "Hope for Children" gala to benefit children's health, education and sustainability programs.
"For a corporation like Samsung to give back to the community is really something special," said Marino, who established his own foundation in 1992 to open doors toward independence for the autism community. "My group has had a great relationship with them. We love raising money so we're glad to be part of it."
All the proceeds and other funds raised by Samsung throughout the year under its "Hope for Children" program goes directly to the charities without stipulation, enabling the foundation organizers to make decisions on where and how to use donated resources.
About 800 people attended the gala at Cipriani Wall Street. Special performances were by nine-time Grammy winner John Legend as well as Jason Mraz, Harry Connick, Jr. and world-renown saxophonist Branford Marsalis. Clinton was presented the Samsung Hope for Children Ambassador Award for his work with the William J Clinton Foundation.
Even current athletes such as New York Giants quarterback Eli Manning came out to show support.
"This is a great cause. And I love doing things to help children," Manning said. "It breaks my heart to see a child suffering in a hospital. I'll try to do everything I can to put a smile back on their face and get them back on their feet."