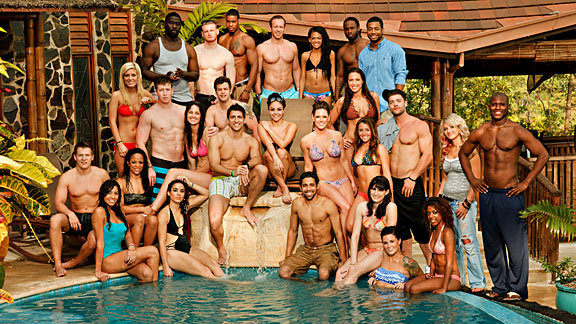 MTVGrantland's Reality TV Fantasy League scouts prospects from "The Challenge: Rivals."
Comedian Fred Allen once called television "chewing gum for the eyes." If that's the case, reality TV is chewing tobacco for the eyes: It's unhealthy, addictive, and sometimes makes you want to puke. But unlike dip, reality shows have an appeal that stretches beyond just dudes who wear overalls for function. Reality TV is popular because it's fun. And it's about to get more fun.
One thing sports have taught us is that almost anything can be improved by creating a scoring system and holding a draft. Try it. Assign point values and draft your coworkers before a meeting. Or family members before Thanksgiving dinner. I once participated in a celebrity DUI draft (Shia LaBeouf was a late-round steal). And this summer we'll use a similar model for the inaugural Grantland Reality TV Fantasy League.
Single-show reality fantasy drafts have been attempted before, but in this league, we selected our rosters from the casts of six different shows. Earlier this week, our owners -- Bill Simmons, Joe House, Connor Schell, Jay Caspian Kang, Lane Brown, and myself -- drafted teams from the summer seasons of "The Bachelorette," "Basketball Wives," "The Challenge: Rivals," "Celebrity Rehab with Dr. Drew," and "Love in the Wild." "Bachelor Pad," which premieres in August, will serve as our playoff round, and its contestants will be placed on teams at a later date.
These shows were selected via a sophisticated process that took into account ratings, cultural impact, and critical acclaim. Oh, wait -- no, they weren't. They were chosen pretty much because they were ones we'd planned to watch anyway.
• Read the entire article on Grantland, Bill Simmons' new sports and pop culture site