Welcome back to another edition of Page 2 Jeopardy!, the quiz that tests your knowledge of sports, pop culture and assorted trivia. Please remember to phrase your responses in the form of a question.
(Correct questions at the end of the quiz.)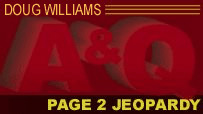 1. Answer: This top big league reliever, who also plays the harmonica, said he'd be "just breathing into the apparatus and making noise" at a recent musical gig.
2. Answer: "I've always been that girl who has a lot of dude friends," says this actress who's now reported to be dating an NFL rookie. "I'm into sports so we have a lot in common."
3. Answer: The last college teammates to be selected among the top three in the MLB draft (1978) before UCLA pitchers Gerrit Cole and Trevor Bauer went first and third this week.
4. Answer: He's a successful trainer with a contender in Saturday's Belmont who has been described as both "a humble dude" and a man who "believes a horse should be allowed to be a horse as much as possible."
5. Answer: A revamped college conference that spent about $250,000 on a rebranding campaign that includes a new logo and new slogan: "This is our time."
Question 1: Who is is Brian Wilson?
Question 2: Who is Hayden Panettiere?
Question 3: Who are Bob Horner and Hubie Brooks?
Question 4: Who is Graham Motion?
Question 5: What is the Mountain West Conference?