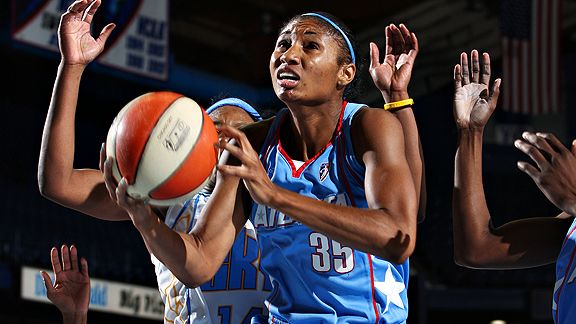 Gary Dineen/NBAE/Getty Images
In the Pro's Questionnaire, our favorite sports figures take an abridged version of the most famous personality test, the Proust Questionnaire. Atlanta Dream forward and 2009 WNBA No.1 draft pick Angel McCoughtry talks about her musical talents, love for her grandmother and passion for tacos.
What is your idea of happiness?

Angel McCoughtry: Love. It doesn't matter whether it's being in love or loving someone else. Just love in general.
What is your idea of misery?
AM: Depression.
What do you think is your main fault?
AM: I am too hard on myself.
If not yourself, who would you like to be? AM: Phylicia Rashad. She's a strong and extremely kind woman. I love her and wish I could meet her one day. She's awesome, and you never hear anything bad about her. With her character and the way people adore her, she could be the first woman president if she wanted.
Who is a hero or heroine you admire the most?
AM:
My grandmother because she is a very strong woman. She's always there for me, and it always feels good to go over to grandma's house. She is 70 and was recently diagnosed with breast cancer, so I make sure to tap into her wisdom when I can.