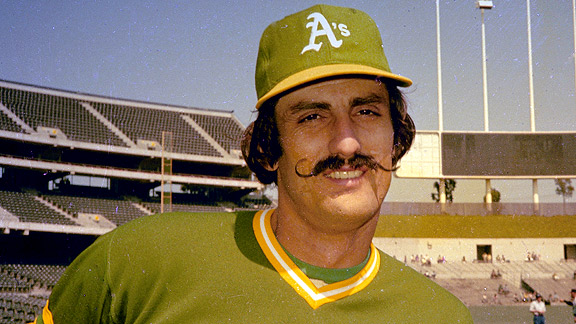 AP PhotoThe man, the myth, the mustache: Rollie Fingers sports his trademark lip warmer in 1973.
Here's one anatomy lesson that won't get you in trouble. It's Page 2's All-Body Parts Team. And, no, we're not putting it on Twitter.
Joey Cheek: In 2002, the native of Greensboro, N.C., became the first American born and raised in the Southeast to win a medal in the Winter Olympics when he claimed the bronze in the 1,000-meter speed skating event in Salt Lake City. (The following day, Vonetta Flowers (Birmingham) won gold in the inaugural two-woman bobsled and speed skater Jennifer Rodriguez (Miami) won bronze in the 1,000 meters.) Cheek won a silver and a gold in 2006 but has devoted his time since then to humanitarian pursuits, chiefly awareness of the genocide in Darfur. He graduated from Princeton last week.
Elroy Face: In 1959, Face went 18-1 for the Pirates. That's the best single-season winning percentage by any pitcher with a minimum of 14 decisions in MLB history. The win total is also the highest in relief by anybody in a year. In his other 15 seasons, Elroy went 86-94, but he more than saved face with 1959.
Rollie Fingers: Famous for his handlebar moustache, it was Rollie's fingers that did the work. Fingers became the first closer to win MVP of either league when he saved 28 games for the Brewers in the strike-shortened 1981 season. Dennis Eckersley, playing for the A's 11 years later, is the only other reliever to be an MVP. Back to Fingers, we point out that his ERA of 1.04 in 1981 was the lowest by any pitcher with 75 or more innings in 65 years.
Brad Hand: The lefty made his MLB debut this week and promptly made history, becoming only the second pitcher since 1900 to lose his first career start while allowing one hit in more than three innings. Hand, who pitched six frames, gave up a solo homer to Alex Gonzalez in the fourth, and lost, 1-0. At least he's got his youth. At 21 years, 2 months and 18 days, he's the second-youngest member of the 2008 draft class to make the majors.
Iris Morhammer: Here's one thing you don't want to be: a ball struck by a Morhammer. The Austrian was a three-time Olympian in handball, an eye-hand sport theoretically well-suited to somebody named Iris.