Derek Jeter's quest for 3,000 hits has him at the epicenter of baseball immortality discussions these days but his rookie cards are anything but elite.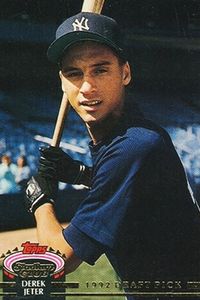 ToppsDerek Jeter's 1992 Stadium Club Murphy card sells for $100.
In fact, they're actually quite affordable.
While the New York Yankees shortstop appears on literally thousands of cards -- 12,908 to be exact -- in the Beckett.com database, he has just eight rookie cards from 1993 that baseball fans might be interested in.
And they won't cost you $3,000 to own, either. All eight will just you just $342 (or less) -- and $220 of that is tied up in the two most-popular cards.
Jeter's 1993 SP rookie card is the priciest at $120 because it's from a high-end brand that has a foil-etched surface and is a bit rarer. This Upper Deck card was a bit of a precursor to what modern cards look and feel like today and that has made it more popular through the years.
His rarest rookie card comes in a boxed set (not sold in packs) made by Topps. That's his 1993 Stadium Club Murphy card, which came in a box that looked like a stadium -- Jack Murphy Stadium to be precise. That card is limited to just 128,000 copies -- an announced figure that's a sliver of the production runs of the typical early 1990s cards.
The rest of Jeter's RCs sell for $30 or less and he can be found in the standard Topps, Pinnacle, Upper Deck, Bowman, Score and Score Select sets from that year.
It'd be pretty tough to own all of Jeter's cards -- particularly because that'd cost you more than $334,000 just for starters -- but his rookie cards are something that beginning collectors and fans alike can track down quite easily.