TARZANA, Calif. -- Shortly before tee-off, the thespians talked Tiger.
TV and film actors headed to California's San Fernando Valley on Monday to hit the greens for the 2nd Annual Screen Actors Guild Foundation's golf classic. The event benefits the foundation's health fund, and brought out a mix of actors who all at least fancy themselves weekend golfers.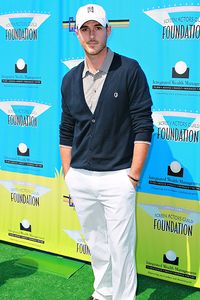 David Livingston/Getty Images"Brothers & Sisters" star Dave Annable at the SAG Foundation tournament at El Caballero Country Club in Tarzana, Calif.
Actor Dave Annable says he'll be watching the U.S. Open this week, in spite of the news that one of his favorite golfers, Tiger Woods, is sitting this one out. Woods won't play when the tournament tees off on Thursday because of injuries to his knee and Achilles.
"It hurts; I'm a huge Tiger fan. What he can do on a course, in his prime, you know, everybody wants to see a comeback. And I want to see Tiger come back and get back out there and start winning some tournaments again," Annable says. "[But] I think it's very cool that it's wide open. It is very exciting for the sport."
"Criminal Minds'" star Joe Mantegna co-hosted the event, and said that he hoped Woods would have been able to pull it together.
"But I think the PGA's been getting along just fine without him for quite some time now," he added. "He no longer strikes fear into the hearts of every other golfer in the world, so it's kind of leveled the playing field."
Not everyone is reeling about Woods' absence. Veteran actor Andy Garcia laughs and said that he actually never planned on rooting for Woods this week in the first place.
"I have some friends on the tour, people that I've met over the years -- Jim Furyk and Rocco Mediate and Paul Stankowski. Some of them might not even be in the Open. But ... when they're in contention you gotta root for them," Garcia said.