Cincinnati Bengals linebacker Dhani Jones doesn't have multiple personalities, but he sure acts like he does.
One second he's talking about third-and-1 against the Pittsburgh Steelers and an opposing player chatting him up. Next second he's talking about his idol, deceased athlete/activist Paul Robeson, who Jones is patterning his life around. Next he's talking about traveling the globe playing rugby and learning Muay Thai and remembering the losses more than the wins.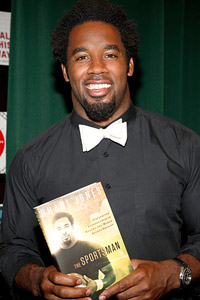 Getty ImagesDhani Jones wrote a book called "The Sportsman: Unexpected Lessons from an Around-the-World Sports Odyssey."
That's why the 6-foot-1, 250-pound California native put it all together in a book called "The Sportsman: Unexpected Lessons from an Around-the-World Sports Odyssey."
"I basically looked in the mirror and took a snapshot of what has happened so far, and that's what the book is about," said Jones, who has played 11 years in the NFL. "My life isn't over. But I thought it was important to do self-discovery at the age of 33."
"The Sportsman" follows Jones and his many ventures: his two years on the Travel Channel as host of "Dhani Tackles the Globe" to his "Bow Tie Cause" to support various charities to his life on the football field.
"People wonder whether I'm spreading myself too thin, but look at my stats, I'm actually getting better with age," said Jones, who led the Bengals in tackles last season with 86. "When I first got into the league, people thought I was crazy. But I'm trying to create a sense of purpose and changing the world."
And there's really no stopping Jones, who said he'll work forever because "I like to eat steak and lobster."
"I have this mantra that my mom really hates," he said, "but it's true: 'As the buffalo roams so shall he find peace in the comfort of death.'"
Then Jones went off into his various personas ...
"You know, when I was a kid I wanted to be a pediatric neuroplastic surgeon," he said. "I wanted to help kids and I thought I could make a lot of money, too. And you know that I have made more appearances on TV than any other football player in history? Look it up. You know that I paint and have had this art show in Cincinnati ..."