John K. Samson's band, the Weakerthans, are quintessentially Winnipeg.
Author Dave Bidini, in the Globe and Mail, called Winnipeg's people and their city "sad and beautiful" and the Weakerthans the city's "most honest, if not its greatest, band."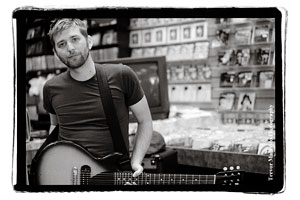 Trevor Marczylo PhotographyThe Weakerthans' John K. Samson said hockey is "woven into the identity" of his hometown of Winnipeg.
Samson has written songs expressly about hockey players ("Elegy for Gump Worsley," "Petition," a petition in song form to lobby for Reggie "The Rifle" Leach to be inducted into the Hockey Hall of Fame) and even curling (!). Samson's solo works include theme albums about highways and roads in Manitoba. The band's tour film is called, "We're the Weakerthans, We're from Winnipeg."
One notable song from the band's catalog, "One Great City," is a love/hate affair as everyone has with their hometown, with a chorus that sweetly sings, "I hate Winnipeg" and a lyric of lamentation: "The Guess Who sucked, the Jets were lousy anyway."
But with hockey's return to Winnipeg, where the team formerly known as the Atlanta Thrashers sold out of season tickets in 17 minutes, Samson said his city can finally exhale.
"There was an inevitability about it," Samson said by phone from Winnipeg, about hockey's return. "We started hearing rumors about a year ago. But no one really dared to believe it was true. We all were kind of holding our breaths."
Samson said the team's departure was tough for the city, but that in a way, it was necessary due to the economic health of the city at the time the team wanted a new arena to stay, as well as the NHL's thirst to make further inroads in the United States.