Green Bay Packers quarterback Aaron Rodgers is a big music fan, and participates in open-mike nights in the Green Bay area. Rodgers has even started his own record label, Suspended Sunrise Recordings.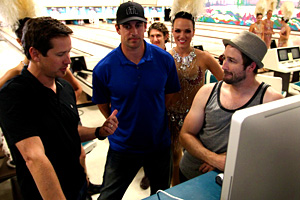 Courtesy of Travis ZacharyPackers' quarterback Aaron Rodgers, middle, on the set of The Make's shoot for its new music video.
Rodgers is keeping busy during the lockout with his new venture, heading to Paradise, Calif., to help shoot a music video for The Make, a new California-based alt-rock band that SSR recently signed.
Rodgers is one of several NFC North players who own and/or run music labels. Perhaps the most advanced is Minnesota Vikings left tackle Bryant McKinnie, Bryant McKinnie, whose BMajor Music Group has a significant presence in the Miami hip-hop scene.
• Read the entire post at ESPN's NFC North Blog.