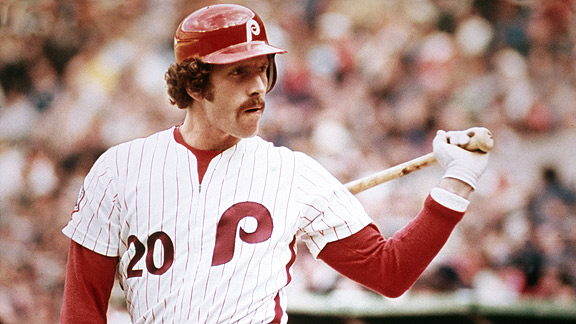 MLB Photos/Getty ImagesMike Schmidt shared with Page 2 his thoughts on Philly fans and the attitudes of today's players.
Mike Schmidt is arguably the greatest third baseman in baseball history. He's almost certainly the best player in Philadelphia Phillies history.
Schmidt was the National League MVP in 1980, '81 and '86. He won 10 Gold Gloves and six Silver Slugger awards. He was a 12-time All-Star who led the NL in home runs eight times. He was voted into the Hall of Fame in his first year of eligibility, 1995, having been named on 96.5 percent of the ballots.
So when Page 2 got the opportunity to interview Schmidt on his recent trip to ESPN, we couldn't wait to talk to him about mustaches, the attitudes of today's players, Philadelphia fans and the possibility of him managing at some point in the future.
Here's what transpired:
Page 2: You're the proud owner of one of the most classic baseball mustaches ever. What are your top three mustaches in baseball history?
Schmidt: Probably [Rollie] Fingers No. 1. [Goose] Gossage is in there. Robin Yount had a mustache off and on a lot. How about Al Hrabosky, the Mad Hungarian? He had a kung fu. [Editor's note: Did you mean a Fu Manchu?] Right, Fu Manchu. Did I say kung fu?
Was it ever difficult to reconcile your strong religious faith in a sport where many players had reputations for womanizing and hard partying?
That's just part of the battle. That was one of the most comfortable things about leaving baseball was to leave the environment. It's very much like a rock star existence -- the nightlife, the hotels, lack of privacy. ... There's a lot of temptations out there. It was nice getting away from it.