Should there be an NBA lockout this summer that ends up eliminating part -- or all -- of the 2011-12 season, Anthony Tolliver already has a full-time job to which he can transition. And given that players aren't paid their salaries during a work stoppage, Tolliver could be one of the few NBAers who maintains a consistent source of income during a lockout.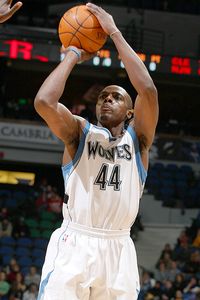 David Sherman/NBAE/Getty ImagesAnthony Tolliver estimates he's invested between $250,000 to $300,000 in a collection of properties.
Tolliver, 25, a third-year forward for the Minnesota Timberwolves who majored in finance at Creighton University, has helped run a real estate business, Say You Can, LLC, since April 2009 in his hometown of Springfield, Mo. It's an unusual venture for a basketball player, or any professional athlete. The closest most athletes get to real estate is when they hire a broker to help them find a new house or condo. Yet the field is one in which Tolliver knew he would have a future.
"Real estate has been something I've been interested in for a long time," Tolliver said during a recent phone interview. Toward the end of his high school career, several of Tolliver's friends became home and condo owners through purchases made with help from their parents. That initiated his interest in home ownership. While attending Creighton, located in Omaha, Neb., Tolliver felt that he had a future in professional basketball; he figured the ability to make a significant amount money and an understanding of how to manage it could make him successful in real estate.
"I didn't know I'd make the NBA, but I knew I would make money in basketball," Tolliver said. As he began playing basketball overseas in 2007 and then in the NBA starting with the 2008-09 campaign, Tolliver and a high school friend from Springfield, Kelly Byrne, discussed opening a real estate firm.
Byrne had completed multiple internships at real estate companies when he attended St. Cloud State University in St. Cloud, Minn. After his graduation, Byrne worked as a project manager for a local real estate company in Springfield. That experience encouraged him and Tolliver to go into business for themselves in early 2009.
"He obviously has the time and expertise to do it," Tolliver said. "At the time, I was playing professional basketball and I had some good capital coming in." That income included more than $213,000 in salary during 2008-09 playing for the San Antonio Spurs and New Orleans Hornets and more than $408,000 in stints with the Portland Trail Blazers and Golden State Warriors during 2009-10, according to basketball-reference.com.