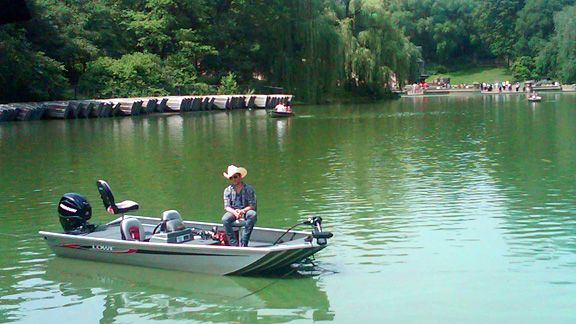 Courtesy of Big Machine MediaThat's country singer Justin Moore on a lake in Central Park doing interviews to promote his album.
Country singer Justin Moore has no problems being called a redneck. In fact, he rather relishes that title. He is from a small town of 300 people (Poyen, Ark.), loves to hunt and fish and actually had a single called "I Could Kick Your Ass."
So it's not really surprising that the 27-year-old Moore was in New York City this week fishing on the lake in Central Park. Yep, fishing.
"I had to get special dispensation to fish out on this lake," Moore said, laughing. "I'm just out here doing interviewing to spread the gospel about my new album."
That new album is called "Outlaws Like Me" and has already spawned the Top 10 hit "If Heaven Wasn't So Far Away."
For Moore, success as a singer seemed so far away when he began in 2002. He did the stereotypical thing of moving from his small Arkansas town to country music capital Nashville, Tenn., to make it. He was trying everything to get noticed, including performing in Wal-Marts throughout the South.
And now, his first album in two years is ready to climb the charts.
"Finishing this album was the most rewarding thing I could have ever done. It makes the odd jobs and sleepless nights worthwhile and shows I'm doing the right thing," Moore said. "I've changed so much over the past few years. I've become a daddy. I'm a better songwriter and I'm understanding what fans want. I don't take anything for granted."
And he still continues to hunt and fish to relax from the rigors of the road. In fact, he recently caught a 4-pound smallmouth bass before a show in Kentucky.
"Getting up in front of thousands singing and the fans thinking you can do no wrong really isn't normal," Moore said. "So, if I'm not spending time with my daughter, I'm out there fishing and hunting. You need that kind of balance in your life."