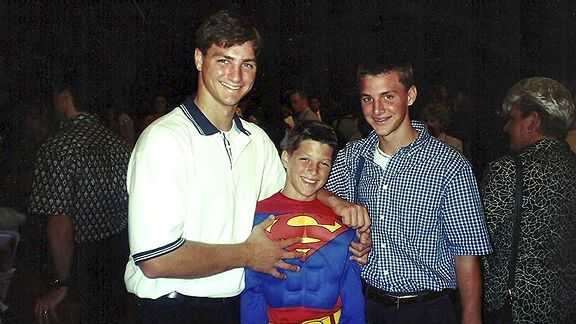 Courtesy of HarperCollins That's brothers Robby, left, and Peter, right, surrounding Super Tebow, the young Tim Tebow.
CORAL GABLES, Fla. -- Sure, Tim Tebow's rookie campaign excited him.
But a lot about it wore him out.
You know, all that fact-checking, organizing, cutting and editing...
"It's harder than most people would think," Tebow said.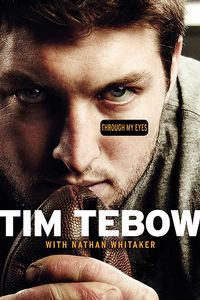 Harper CollinsTim Tebow's book is a 250-plus-page memoir titled "Through My Eyes."
Tebow, of course, is talking about his first go as an author, which resulted in a 250-plus-page memoir titled "Through My Eyes," co-written with Nathan Whitaker (who also co-wrote "Quiet Strength" with Tony Dungy).
The book -- which he and Whitaker started writing last fall and finished after the season -- features stories from the 23-year-old's life, from his birth in the Philippines to his upbringing in Jacksonville, Fla., to his legend-making college days at the University of Florida to his first NFL season in Denver.
The themes are classic Tebow: Football, family, faith, and his immense dedication to all three.
And the result? Predictably strong for the eminently popular Heisman Trophy winner; released May 31 by HarperCollins, on June 19 the book jumped onto the New York Times Bestseller list, at No. 6 for hardcover nonfiction. This week it moved up to No. 5, one spot ahead of Tina Fey's.
Tebow also has seen the support in person, holding six book signings -- four in Florida, two in Colorado -- which have been flooded with fans of his football, his message, or both.
And so, with a large crowd gathered Monday night outside Books & Books -- not far from the campus of rival University of Miami -- Tebow sat down with Page 2 to talk writing, reminiscing, meeting his fans, and more.
What's it like having this book out there?
"That's something that's a lot of fun. Because a lot of [the] stories people don't know. But also the stories they do know -- maybe it was a little different than they thought, or how the media portrays it. ... So that was kind of exciting for me to be able to [tell]."