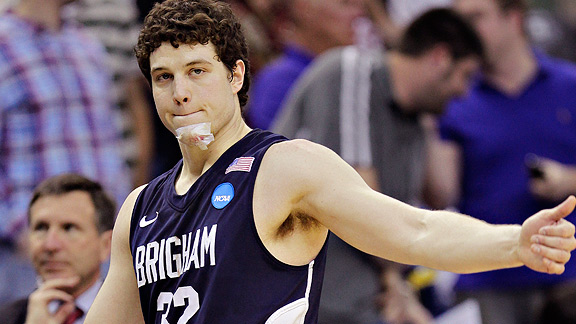 AP Photo/Bill HaberJimmer Fredette: "A cheesy white pizza who flung himself into the oven of national consciousness."
SportsAndFood.com presents its annual look at the NBA draft, in S&F style, comparing prospects to foodstuffs.
A few selected examples:
The Crab Cake: Kyrie Irving, point guard, Duke. It's hard to grasp the allure of the elusive crab cake. Much of its appeal, it would seem, is derived from the restaurant world's insistence on giving us only bird food-sized portions of it. We see it on the menu, our hearts light up, we order, and then we finish it in two bites. It always leaves us always wanting more.
The Meatloaf: Kemba Walker, guard, UConn.You don't have to reject the meatloaf. But don't feel obligated to accept its hype, either. Your grandmother or aunt or favorite cafeteria lady has been pushing and peddling and promoting its universal charm since you were in Weeboks.
The Scrapple: Kenneth Faried, power forward, Morehead State. Ah, scrapple. It's a scrapheap only the Commonwealth of Pennsylvania could concoct, let alone justify. For those that don't know, scrapple is a geographically confined delicacy -- an artery-arousing amalgamation of pork scraps congealed into a cornmeal and flour-infused wad.
The Frozen Pizza: Jimmer Fredette, guard, BYU. The debate concerning the all-time greatest It's-late-and-I-need-it-quick-and-I-need-it-now food may never be solved. Compelling cases can be made for the burrito, ubiquitous in cities like Chicago and New York, or the cheesesteak, always satisfying but harder to legitimately find if you live off the Eastern Seaboard.
• Read the entire article on Sports and Food.