Jason Terry is an NBA champion, a shooting guard with a sweet touch and a soothsaying right arm.
Terry got a much-ballyhooed tattoo of the NBA's Larry O'Brien Championship Trophy on his right arm before the season began, a bold move for a player from a franchise that had never won an NBA title.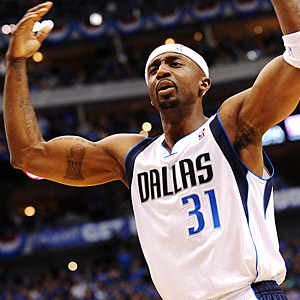 Noah Graham/NBAE/Getty ImagesJason Terry got a tattoo of the NBA Finals trophy on his right biceps prior to the start of the season.
But Terry's vision was fulfilled, and the tattoo will stay. He spoke to Page 2 on a visit to ESPN on Wednesday, discussing his superstitions, the tattoo, and his coaching style and aspirations.
You still wear the opposing team's shorts to bed before each game. What are the worst ones you've ever worn?
The Utah Jazz. John Stockton's. Stockton didn't give them to me, but I got them from the actual ball kid in the arena. When I looked at them, I knew they were his, because they were the shortest thing out there, and then they had his No. 12 on the inside.
It has to be actual, real shorts?
Gotta be the real thing. Now, San Antonio tricked me about three years ago when they gave me some practice shorts, and I tried them. And they ended up beating us. So that doesn't work.
I understand your wife's not a big fan of this practice.
Nah, she doesn't like it. But hey, it works for me. Got a lot of wins.
It's obvious your tattoo was the key to the Mavericks winning the title. Has Jerry Jones asked you to get a Lombardi Trophy tattooed on there?
Nah, he hasn't asked me. I was thinking about it actually, because Emmitt [Smith], Troy [Aikman] and [Michael] Irvin are my best friends. I was thinking about getting the star on my neck. They're huge Mavericks supporters. They were at all the games throughout the playoffs. When we come out of the tunnel, Emmitt's right there shaking our hands before we go out. Dallas is a close-knit sports group.
What else can we solve with that Nostradamus Arm? Can you maybe get something to solve the financial crisis?
I thought about that. I thought about getting a dollar sign on there. DeShawn Stevenson has Abraham Lincoln. Five dollars.