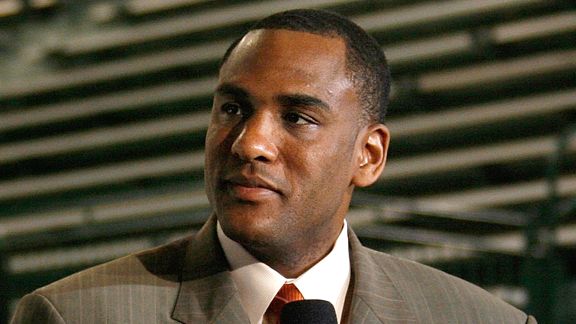 Joe Murphy/Getty Images
In the Pro's Questionnaire, our favorite sports figures take an abridged version of the famous personality test, the Proust Questionnaire. Steve Smith, NBA champion (Spurs, 2003) and current NBA TV analyst, talks about his love of milkshakes, his desire to be a professional golfer and his hardworking parents.
Your idea of happiness:
Steve Smith: My life as it is right now is my definition of happiness. I have wonderful kids, a great wife and my dream job. It's a dream to be paid to watch and discuss basketball games, just like I would be doing at home with my family and friends. I have the ability to travel and do something I love. I also get to watch my kids grow and become great young men.
Your idea of misery:
SS: Seeing people go through an illness. I hate to see people suffer. My mom died of cancer and it's a tough thing to go through.
Your main fault:
SS: Not traveling enough. I always thought I was going to play overseas when my NBA career was over. I never did, then I started a family, so that changed things.
If not yourself, person you would like to be:
SS: Muhammad Ali. He accomplished so much in boxing and became a leader in society, especially in the African-American community, by standing up for what was right.
Hero or heroine you admire most:
SS: My mom and dad. My dad was a bus driver for 37 years. My mother was an unbelievable stay-at-home mom who taught me all my values. I also have lots of respect for Barack Obama.
To read the rest, check it out on espnW.