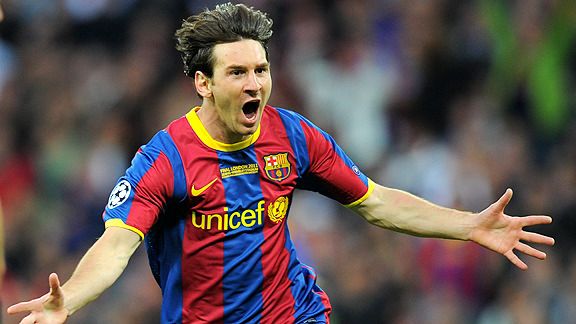 LLUIS GENE/AFP/Getty ImagesLionel Messi probably looked like this when he found out he was drafted by the Harlem Globetrotters.
Lionel Messi ... Harlem Globetrotter?
OK, probably not.
But the international soccer sensation was selected earlier this week by the legendary organization in its fifth annual draft, held just days before the top NBA prospects heard their names called by David Stern.
And don't tell "Sweet" Lou Dunbar, the club's director of player personnel, that selecting Messi -- or American goalkeeper Tim Howard (in 2009) or 7-foot-9 Chinese player Sun Ming Ming (2007) -- was a stunt pick.
"They're real good athletes," said Dunbar, who spent 27 years as a Globetrotters player. "Sometimes you see guys get drafted in football and they've never played a down. ... [This is] kind of the same concept. With these guys, maybe it's a possibility that they become a Globetrotter."
Here's betting Messi, who turns 24 Friday, won't make the leap from Champions League-winning FC Barcelona -- at least not for a long while.
But that's not to say the five-year-old draft isn't (mostly) serious. Throughout the season Dunbar and the scouting staff search worldwide for talented players, potential entertainers, "guys with good character" (Dunbar's words), and all-around good athletes ("If you're good enough athlete, we can teach you to handle the ball," he said).
Finally, around the time of the NBA's selection show, the group gets together for one final conference call.
And unlike the NBA draft, there's no clock on the picks.
"It can go on forever," Dunbar said.
And why, exactly do they have a draft?
"We're a professional team. So [we asked ourselves], 'Why not draft players?'"