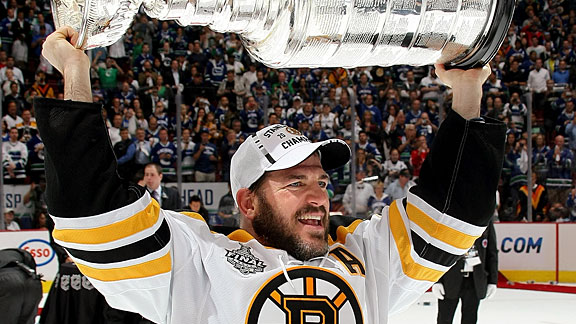 Dave Sandford/NHLI/Getty ImagesMark Recchi retires as a Stanley Cup champ, 23 years after the Penguins drafted him No. 67 overall.
Mark Recchi couldn't have dreamed up a script much better than this.
He won the third Stanley Cup championship of his career last week, racking up three goals and four assists as the Boston Bruins beat the Vancouver Canucks in seven games. Moments after hoisting the Cup in his native British Columbia, he triumphantly announced his retirement after 22 NHL seasons at age 43.
Only three players in history -- Gordie Howe, Mark Messier and Ron Francis -- have played in more NHL games than Recchi, a seven-time All-Star who was the league's active career leader in assists and points this past season. He's the oldest player ever to score a goal in the Stanley Cup finals. He's also active in charitable endeavors and one of the owners of his hometown junior hockey team, the Kamloops Blazers.
When Recchi stopped by ESPN on Thursday for a series of interviews to promote Reebok ZigTech shoes, Page 2 somehow convinced him we're a credible outlet worthy of his time.
Here's what transpired:
Page 2: What do the Bruins need to do to fill your big shoes?
Recchi: They have some good young players. Obviously, [Tyler] Seguin will play more next year. [Jordan] Caron is gonna be ready. So they have some young players who are ready to step in and fill my spot. [General manager] Peter [Chiarelli] does a great job, and they've got a bunch of winners in that dressing room and great leaders who will step up.
What did you do during your time with the Stanley Cup in 1991 and 2006?
The first time, I had it for only half a day. I was in Pittsburgh, and I just took it up with some friends and family. The second time, I had it for 2½ days. I took it back to Kamloops, British Columbia, and had a whole bunch of things. I brought it to the arena, and people could get a picture with it and then family and friends for a couple days. Then, I had a golf tournament, and actually, Bobby Orr came in so sponsors could get a picture with him and the Cup and me and the Cup.