Welcome back to another edition of Page 2 Jeopardy!, the quiz that tests your knowledge of sports, pop culture and assorted trivia. Please remember to phrase your responses in the form of a question.
(Correct questions at the end of the quiz.)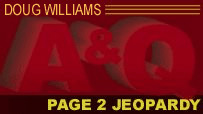 1. Answer: After riding these at a circus in New Orleans with Saints teammate Lynell Hamilton, Robert Meachem told the crowd, "Please don't try this at home."
2. Answer: Five members of this women's national soccer team have posed semi-nude in a magazine to bring attention to their sport before the Women's World Cup, which starts later this month.
3. Answer: "He's got what I'd say is a Northeastern attitude -- a hockey-type of attitude," says a teammate of this Vanderbilt outfielder. "I don't know his grandfather, but I guess he's kind of the same way."
4. Answer: This werewolf-playing actor, known for his "perfect abs," once trained as a boxer, and produced and directed a short documentary about Pittsburgh Steelers fans in L.A. called "DieHardz."
5. Answer: In his rookie season with the Royals in 1973, future Hall of Famer George Brett appeared in 13 games for this first-year manager.
Question 1: What are elephants?
Question 2: What is the German national team?
Question 3: Who is Mike Yastrzemski?
Question 4: Who is Joe Manganiello?
Question 5: Who is Jack McKeon?