Connecticut football coach Paul Pasqualoni is finally back home.
He was born and raised in the state, in Cheshire, played for Joe Paterno at Penn State, then spent 29 years as a coach at Southern Connecticut, Western Connecticut and Syracuse. After getting fired at Syracuse in 2004, Pasqualoni found himself looking for a new adventure.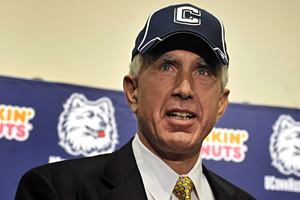 AP Photo/Jessica HillConnecticut head coach Paul Pasqualoni is back in his comfort zone in the Northeast.
A self-described "fairly intense football guy," Pasqualoni opted for a geographic -- and cultural -- shock, taking a job as an assistant coach with the Dallas Cowboys. He moved his family to the football mecca of Southlake, Texas, a Pleasantville-like suburb of Dallas and home to the powerhouse Southlake Carroll Dragons.
Pasqualoni joked that he told his wife not to get used to the area, because it wasn't "the real world." He marveled at the community involvement in the high school's football program, noting his children got morning announcements at school in the form of something called "Dragon News."
"On Fridays, even as kindergartners and first-graders they wear their green Southlake Dragons shirt to school. Then at homecoming, they were out on the field, small as they were," he said. "The culture of what they do I think, all over Texas, is the promotion of high school football. Southlake is a town of 24,000. How many are in the stadium? 20,000-22,000? So it was a lot of fun."
Now, back in the "real world" of his native Connecticut, Pasqualoni passed out restaurant tips on a recent visit to ESPN (he's a big fan of Sally's Apizza in New Haven) and talks about how the UConn job is a dream for him.
But even as comfortable as he is geographically, he's adjusting to a seismic shift in the recruiting landscape from when he was last a head coach.
"Emailing, when I left, was just kind of coming in. Texting was nonexistent, Facebook was not there at all," he said. "So I think the intensity of it, just the process of it, the exposure of it, it's just a really intense environment."