June has been a crazy month, as baseball is in full swing and New York is mesmerized by the fact that a New York Yankee has never had 3,000 hits. Derek Jeter is almost there.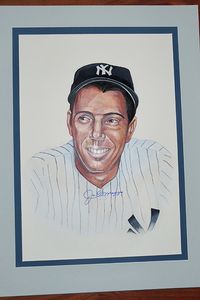 Edward Krawiec Sr. Joe DiMaggio items, such as this painting, are always special to baseball collectors.
I knew June 7 was a special day. The day began in our offices with Yankees great Andy Pettitte coming up for a quick interview for my YES show, and it was my first time seeing Pettitte since his retirement.
Of course interviewing Pettitte is always special, and this day was no different. I'm sure none of my readers are surprised that the interview turned slightly to collecting.
Surprisingly, Pettitte gathered a lot of signed balls in his first few big league seasons, from players he had respected greatly. Then the collecting turned to game-used items, as Andy would get his jersey, shoes and articles he wore in the World Series framed in a large display. After the first World Series, he went on to do this many more times.
Pettitte was most proud of his all-time postseason win total, as well as the win-save record he shares with Mariano Rivera. This is an incredible statistic, 68 times Andy won a game, Mo saved the game, a major league record
Wrapped it up with Pettitte, then head straight to the MLB Fan Cave for my weekly show, "What's it Worth?"
We started with Jim Houlihan, from Houlihan Parnes, who brought three amazing New York Yankees World Series programs from the 1930s. Houlihan and I got a laugh from the fact you could buy a brand-new car for $399, according to the advertisement that graced the back cover. World Series programs in beautiful shape from that era are worth upwards of $500. The 1936 was amazing as it was Joe DiMaggio's rookie year as well as a year the Yankees went to the World Series.