You think you're tough? Bow down to Chicago White Sox Manager Ozzie Guillen. He is the very definition of tough.
Guillen recently passed a kidney stone and still managed the Sox on the same day. Anyone who has ever dropped a stone will tell you that you do not feel like managing anything other than dictating your last will and testament. No, what you want to do is curl up into the fetal position and cry for your mama.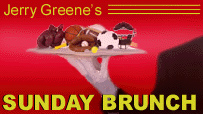 Unfortunately, sources indicate Ozzie's problems with the English language may have led to mental suggestion creating the stone. Apparently someone said to him that "managing the White Sox must be as bad as passing a kidney stone" -- and he didn't realize it was a metaphor.
Meanwhile, Chicago Cubs Manager Mike Quade must be wondering what the metaphor is for running the Cubbies -- passing a billy goat?
Let's review a few more moments from the week that was before advancing to the main courses in our Brunch that will be prepared by some of our leading sportswriting chefs.
• Former President George W. Bush decided it was hip to help the Rangers set a Guinness Book of World Records mark for most people wearing sunglasses in the dark during a game against the Astros. Again, President Bush decided to do this. That explains a lot.
• Tweet of the Week from SB Nation's Holly Anderson about tennis star Venus Williams: "OK, everybody stop calling Venus' outfit 'UNIQUE' like it's acceptable for a grown woman to wear a ROMPER on television." Ouch.