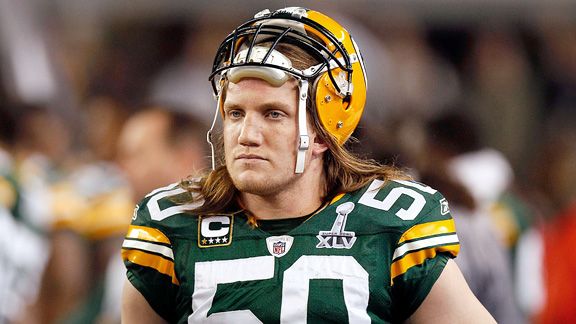 Kevin C. Cox/Getty ImagesA.J. Hawk, recovering from wrist surgery in February, is working on his golf game.
When A.J. Hawk first got into golf -- late in high school, then in his early days at Ohio State -- he did what most football types do.
"Just being an athlete," the Green Bay Packers linebacker said, "I always tried to play hard and wanted to drive the ball far."
Then -- when he participated two years ago in the celebrity-filled American Century Championship -- he really embraced the grip-it-and-rip-it attitude. Not an accomplished linksman, Hawk nonetheless entered the Lake Tahoe-based event's long-drive contest, his first such competition.
"I figured [I had] to bring something to the table out in Tahoe," he said. "... because I'm not making any putts or chipping anything in."
He won, knocking the ball 322 yards. And next month he'll be back for more, participating for a third straight year in the NBC-televised event that runs from July 12-17, and whose 54-hole tournament is set to feature ex-athletes such as Michael Jordan, Charles Barkley, John Elway and Jerry Rice; current ones like Aaron Rodgers, Jason Kidd, Jimmer Fredette and Tony Romo (one of the favorites); and non-sports personalities like Ray Romano.
Hawk, according to the latest Harrah's odds released by tournament spokespeople, is 200-1 to win the golf portion. And he likely won't be the long-drive favorite, either. Last year actor Alfonso Ribeiro won, and currently Hawk is recovering from February wrist surgery.
In fact, during a recent call, the 6-1, 247 pounder said he hadn't played a round since the final one at last year's ACC, and only had been to the range once since the procedure.
But he did "feel pretty good swinging it," and he's got himself a new Taylor Made R11 driver to boot (he used an old Callaway back in 2009).
And so, in the coming weeks, he'll be working hard on rehab.
For football, sure; "That's what pays my bills," he said.
But also so he can keep swinging hard.
"I'm just trying to get back into that long-drive shape," Hawk said, "to win it this year."