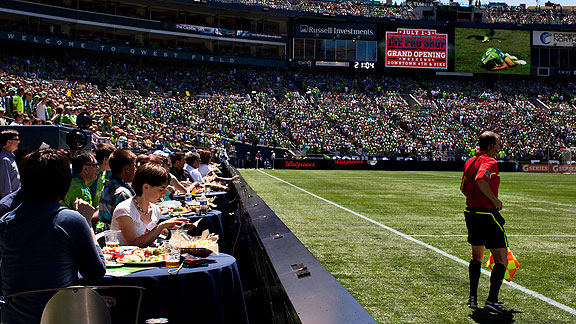 Courtesy of Chris WilsonFans of soccer in Seattle have many options for grub, including a salmon BLT.
SEATTLE -- While the Seattle Sounders players shed their blood, sweat and tears at CenturyLink Field on match day, roughly 35,000 onlookers are busy stuffing their faces with delicious snacks and washing it down with a beer or 12.
But to a select group of Sounders fans, "onlooker" has a seriously different twist. Just ask the groups seated at the 15 field-side tables if they're more worried about whether the steak they ordered is actually well done or taking a ball straight to the face from as close as six feet away.
You see, one thing that you'll notice about a typical Sounders game is the fact that there are a little over a dozen neatly set tables that would normally belong at a local high-end restaurant lining the field on the east side. Another thing you'd notice is that those tables are eventually filled by people during the game, who can place orders and enjoy their meal in one of the most up-close-and-personal experiences you could get at a professional sports stadium.
The Seattle Sounders are the only team in the MLS who allow for this sort of accommodation on game day, and Executive Chef John Severson will be the first guy to tell you how cool he thinks it is. SportsandFood.com was given an exclusive tour before Sunday's Revolution-Sounders game.
"No other team in the League does it, so we're pretty proud of it. Plus, nobody's gotten hit in the head yet, so that's nice," Severson said.
Read the rest here at sportsandfood.com.