This "Law Firm" isn't waiting for a verdict in the NFL lockout.
New England running back BenJarvus Green-Ellis trains at the Miami gym where Muhammad Ali fought, flew an F-16 with the Air Force Thunderbirds last month and works out with several NFL players in Orlando.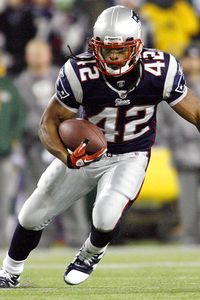 Stew Milne/US PresswireLast season, BenJarvus Green-Ellis became the first New England player to rush for 1,000 yards since Corey Dillon in 2004.
"It's been a surreal offseason," he said Wednesday. "Everything has been a very humbling experience with the lockout. But when I go to the boxing gym and see those guys work out, I want to work harder."
On the field, "Law Firm" has several partners. "People call me the "Law Firm" because I have a lot of names," Green-Ellis said. "I look at the "Law Firm" as also being the line. They're really the "firm" because they make it happen up front. You can't be a law firm with just one guy."
What about Coach Bill Belichick?
"He's the Supreme Court. He's the highest of the high. Mr. Kraft, he's the owner of the court."
Green-Ellis was christened "Law Firm" as a rookie in 2008. "I'm not sure if it came from the fans. The first time I heard it was on TV. Chris Berman and Trey Wingo used it."
He trains at Angelo Dundee's 5th Street Gym in Miami three days a week. He has a spot on its Wall of Fame and learned from heavyweight David Haye (who faces Wladimir Kitschko Saturday). To avoid injury, Green-Ellis doesn't fight. "Everything is different" between boxing and football, he said. "Boxing was difficult when I started because it is so technique-driven. You have to be more of a gym rat, and be more precise." Green-Ellis wants suggestions via twitter (@TheLawFirmBJGE) for a pugilistic moniker like "The Subpoena."
A restricted free agent, Green-Ellis gained 1,008 yards on 229 carries in 2010. He's working out in group sessions (under the tutelage of speed and conditioning coach Tom Shaw) at ESPN's Wide World of Sports in Orlando to keep the focus on football. They include James Farrior, Ike Taylor and Travis Johnson.
"You don't let anyone else outwork you," he said, while adding it's still not the same as training at the Patriots facilities with the rest of the squad. "We're not able to build team chemistry right now. We're not getting the one-on-one coaching or get to study film," Green-Ellis said.