Welcome back to another edition of Page 2 Jeopardy!, the quiz that tests your knowledge of sports, pop culture and assorted trivia. Please remember to phrase your responses in the form of a question.
(Correct questions at the end of the quiz.)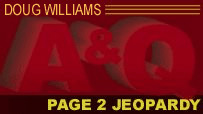 1. Answer: "I'm going to continue to mold my game after him," says this just-drafted NBA prospect of comparisons to Reggie Miller.
2. Answer: He's known as a good talker -- just like his dad, a radio talk show host -- and has become one of the majors' top young closers with a fastball that routinely hits 94-95 mph.
3. Answer: These used items from this year's Wimbledon tennis championships are being re-purposed as homes for mice at a tourist attraction in England's Lake District.
4. Answer: This inductee to the Boxing Hall of Fame, a two-time heavyweight champ, stood just 5-foot-11 but packed a punch that resulted in 55 KOs but a rather strange career record of 59-23-1.
5. Answer: The king of the mountain stages of this year's Tour de France, which begins Saturday, will wear a jersey with this color scheme.
Question 1: Who is Klay Thompson?
Question 2: Who is Drew Storen?
Question 3: What are tennis balls?
Question 4: Who is Rocky Balboa?
Question 5: What is red polka-dots?