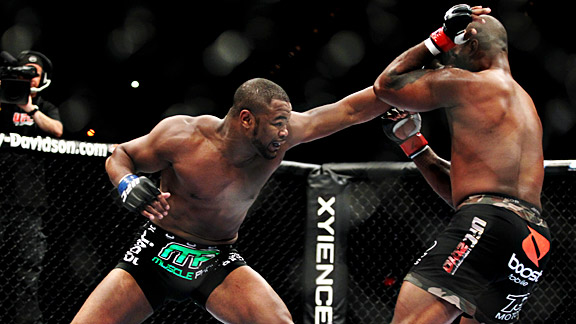 Ed Mulholland for ESPN.comRashad Evans will help motivate you to throw better punches in "UFC Personal Trainer."
UFC gladiator Rashad Evans has seen his character knock people out hundreds of times in video games, but in "UFC Personal Trainer," Evans and his virtual doppelganger appear on screen to help get gamers in better shape, teaching them proper MMA fighting techniques and routines in order to shed real pounds (not to mention learn how to throw real elbows).
"In this game, you actually get a chance to see how we train, so people will not only have fun playing, they'll get a good workout in," Evans told me over the phone recently to help hype the UFC's latest partnership with video game publisher THQ. "If you play this game about three times a week, it will help you get in shape and you'll work up a nice sweat. It's fun, too, and that's what's cool. You'll play, and maybe you won't do a combination right, so you'll challenge yourself to do better next time, then go back and try to throw the perfect combination. And the more you follow the instructions, you'll find yourself getting better and better and you'll probably want to do it more than even three times a week as you continue to improve and start to drop some weight."
Just make sure you move any objects out of your way before you start kicking at your Kinect. Last thing you want to do is front kick a lamp at your flat screen (or your little brother).
Jon Robinson: When you had the chance to play the game, what was the workout routine like?
Rashad Evans: It's funny because I was being trained by myself and we were working the mitts with jabs and crosses and knees and kicks. I messed up a few times because I wasn't focused when I was playing the game, so then I started to focus and kept playing and I actually started to sweat. You feel it when you play, and it's a great workout because you don't even realize that you're working out. It's one of those workouts that sneaks up on you and those are the best types of workouts because, let's be honest, most people don't want a hard workout. You want your workout to sneak up on you. That's when you get the best results.