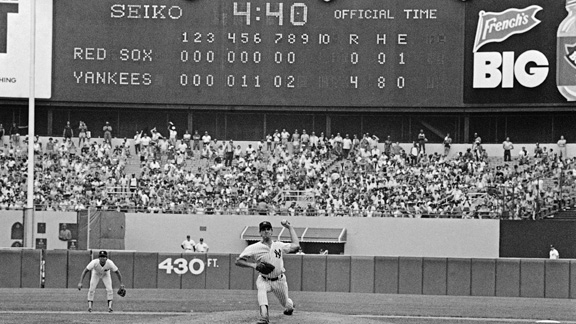 AP Photo/Ray StubblebineIn 1983, New York Yankees pitcher Dave Righetti threw a no-hitter against the Boston Red Sox.
There's something special about a no-hitter.
But a no-hitter on July 4?
In baseball history, there have been only three: Hooks Wilts pitched a no-hitter in 1908, George Mullin pitched one in 1912 and Dave Righetti, the current pitching coach for the San Francisco Giants, pitched the third in 1983. Righetti's no-hitter was also the first Yankee no-hitter since Don Larsen's in 1956.
"The strange part about it was afterwards I kind of didn't know what to do," Righetti said recently about being on the field after the final out was made. "I had a bunch of people pulling at me, photographers and people wanting me to do interviews. I never really got to go in the clubhouse or celebrate with the guys, or anything."
After his All-Star break in 1983, Righetti realized the significance of the no-hitter.
"When I got back in New York, things started filtering in from all over the world," Righetti said. "I got flags from different [places], actually one from the White House that was flying that day."
Righetti also received notes from fans, one note from Richard Nixon who was at the game and several newspapers from all over the world.
"A lot of them were [from] servicemen that were stationed in Germany, Italy and Turkey," he said. "Places like that where we had our bases. I loved those."
To read more about that day, check it out here.