LOWELL, Mass. -- Joe Price is no Carl Lewis.
Like most of us, Price lacks the speed and skill of the nine-time Olympic gold medal winner. But more importantly, he would never do this to the national anthem.
That's important because Price is touring the country to sing "The Star-Spangled Banner" at more than 100 minor league ballparks this season as he prepares to write a book about the anthem and its intertwined history with baseball. Price is a professor of religious studies at Whittier College in California and took a sabbatical to go on tour and work on the book. His wife, Bonnie, recently retired and is joining him for much of the tour, which is slated to span more than 15,000 miles.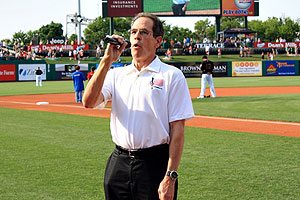 Bonnie Price photoJoe Price is taking his love of the national anthem and baseball to great lengths in the 2011 season.
So where did Price develop such a strong passion for the national anthem?
"Given my disciplinary background as a religious studies professor, I look at it as a consecrating ritual for the civil religion of baseball," Price said after singing the anthem at the Class A Lowell Spinners game on Tuesday night.
Price's performance at LeLacheur Park, home of the Spinners, was No. 61 of the tour. He has 45 more scheduled. He was rained out once, in Woodbridge, Va., and missed two other appearances, at Norfolk, Va., and Salisbury, Md., due to mechanical problems with his RV.
One of his favorite stops was Hagerstown, Md., where he raved about the ballpark's food and met prized Nationals prospect Bryce Harper.
"I teased him about his pink shoes [for a breast cancer awareness promotion], and he was a good sport about it," said Price, who has also performed the anthem at 20 major league venues. "Before the game, fans were chanting 'Bryce, Bryce, Bryce,' but I joked to him that they were saying 'Price, Price, Price.'"
Most people are only familiar with the first verse of the anthem, which is the only part that's performed at most sporting events. But Price appreciates the entirety of the Francis Scott Key poem.
"The one thing I'd really love to be able to do is sing the fourth stanza [at a game]," Price said, referring to the song's final verse, which pays homage to veterans.
Fortunately, Price said he hasn't flubbed the notes or the words of the anthem at any of his tour stops -- notably unlike Lewis and his Star-Mangled Banner.