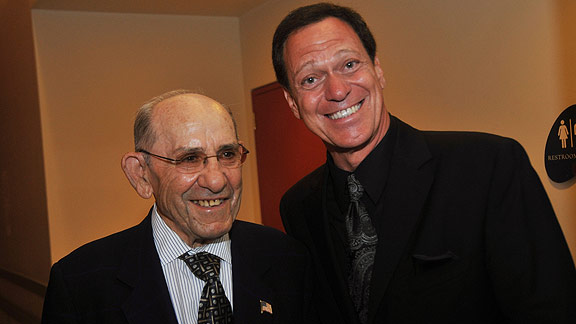 Bobby Bank/WireImage Hall of Famer Yogi Berra and comedian Joe Piscopo have known each other for about 30 years.
One of baseball's most beloved figures, Yogi Berra, will attend a special concert to benefit the Yogi Berra Museum & Learning Center at 6 p.m. Saturday in Montclair, N.J. The event, featuring a performance by the original stars of the Broadway hit "Jersey Boys," will take place at the Yogi Berra Stadium on the campus of Montclair State University.
"Besides being really funny, he is one of the greatest athletes in the world," said comedic legend Joe Piscopo, who will serve as master of ceremonies. "We've known each other for 30 years and he is the same loveable person he's always been."
Born in St. Louis, Lawrence "Yogi" Berra played almost his entire 19-year baseball career (1946-1965) for the New York Yankees. As a catcher, coach or manager, Berra appeared in 21 World Series and he was elected to the Baseball Hall of Fame in 1972. He was nicknamed "Yogi" by a friend because Berra, while waiting to bat, would sit with his arms and legs crossed looking like a Hindu holy man -- a yogi. Berra also was known for his wacky language, with his most famous phrase -- "It ain't over till it's over."
"People always talk about his words but they lose sight of how great of a talent on the field he was," said Piscopo, who lives in New Jersey and recently opened up his own club called Club Piscopo in Atlantic City. "I am still an unapologetic fan of the Yankees and he was my hero growing up and still is."
All proceeds from ticket sales will be used for the Yogi Berra Museum & Learning Center's education programs, a nonprofit sports education facility. Its mission is to promote the values of sportsmanship. For more information, check out the museum website.
"I remember when my father would take me to Yankee Stadium and we'd see Yogi hit anything thrown his way," said the 60-year-old Piscopo, who still travels the nation as a stand-up comedian after a long film and TV career. "My dad said Berra was the best bad-ball hitter in the game. Years later, I asked Yogi about how he could hit anything. He responded, 'I see the ball real good.' Now that's classic Yogi!"