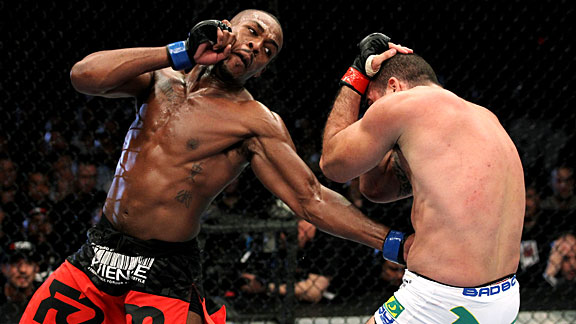 Al Bello/Getty ImagesJon "Bones" Jones pounds on Mauricio "Shogun" Rua during their UFC light heavyweight title bout.
Jon "Bones" Jones is essentially two different men existing in a single body.
Bones Jones is the 6-foot-4, 205-pound UFC light heavyweight champion, a rising star in the MMA ranks. Then there's Jon Jones, the introverted 23-year-old trying to emerge from the shadow of his older brother, Baltimore Ravens defensive lineman Arthur Jones.
Bones Jones is supremely confident in his skills, while Jon Jones is a reluctant star.
"The 'Bones' character is usually based around physical competition," Jones said during a recent commercial shoot for K-Swiss. "I have a lot of faith in myself with my fighting techniques and talent and way of thinking. I'd even dare to say that I take it more seriously than most people in the sport."
But behind the muscular exterior of "Bones" lies a man trying to figure out who he is and what this world is all about.
"I still find myself feeling insecure in some situations and shy," Jones said. "It's just part of being young and a human man."
Endorsements and championship bouts have the potential to take Jones from niche stardom to mainstream fame. So he might as well get used to the spotlight.
"I'm starting to learn to be myself and share myself -- not worry about the criticism," Jones said.
As Bones Jones has enjoyed success in the octagon, it has become easier for Jon Jones to become more outgoing.
"It has changed," Jones said. "It's not just being a UFC champion. It was when I started in the UFC. I started communicating with a bunch of people of different ages and ethnic backgrounds. I started to grow really fast. Being in different cities, different countries taught me a lot about being a man."
But while Bones Jones goes to bed as a UFC champion, Jon Jones sometimes still wakes up as a hesitant former member of a jazz choir.
Jones' supporters have no such hesitation when discussing his future.
"I'm telling you, he's going to be a heavyweight champion someday," said Arthur Jones. "Every sport he has ever played throughout high school -- unlike me -- he's always been the captain. He's always been the best on the defense. Always the best on the wrestling team. He is a born leader. I was a one-time state champ in wrestling in high school. He was a two-time state champ. He's just a freak child."