Lisa Leslie is a true professional.
The three-time WNBA MVP, model and actress will have to rely on all her experience when she's on stage at the ESPYs for the presentation of the Capital One Cup trophy.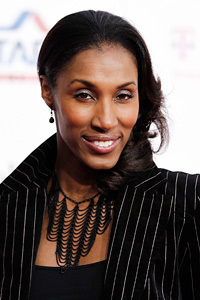 AP Photo/Matt SaylesLisa Leslie says the Capital One Cup is "bringing attention to student-athletes like never before."
The former USC basketball star will be there to see her old nemesis, Stanford, pick up the trophy as the top women's Division I college athletics program in the country. Florida won the men's award.
"It's a little painful for me, I have to admit," Leslie said, saying she was a "little salty" that USC didn't win again.
"Stanford, you know, we competed against them so hard. I've watched [their athletics success] back when I was in school, and the fact that it's still going on, it's a tribute to how powerful their teams have been over the years."
Leslie, who's one of the advisory board members for the Cup, also participated in a chat Friday on ESPN.com and said she's proud of her association because of the positive light it shines on college sports.
"The Capital One Cup is bringing attention to student-athletes like never before," she said, giving the example of Justin Timberlake's video in which he attempts different college sports as preparation for presenting the trophy to the Florida and Stanford contingents alongside Leslie. The ESPYs are Wednesday, July 13, at 9 p.m. ET.
Leslie is passionate about the award for winning the Cup, which gives each school $200,000 to fund student-athlete, graduate-level scholarships. She calls herself "a Title IX baby" because she was born two weeks after the bill passed in 1972, and she said female athletes often aim for graduate degrees.
"We usually have to set our goals past the sport we're playing," said Leslie, who got her MBA last year. "It's always about planning for the future, because we never know how long our sports career will last."
She has used her standing to continue to lobby for women's sports, saying her career wouldn't have been possible without the bill's passing.
"It's unfortunate that we have to continue to fight to have our place," she said. "It's not our fault we were born girls; we just want to play, too."