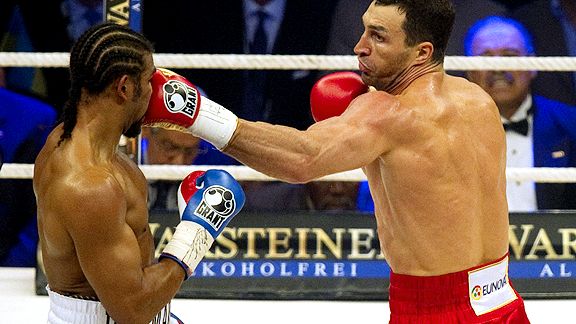 Odd Andersen/Getty ImagesWladimir Klitschko did all the boxing, while David Haye did all the standing around.
We like to point out overlooked but important news stories from the week that just expired but sometimes we don't have those stories. Sometimes we have news such as heavyweight boxer David Haye threatening to retire.
Oh the humanity.
You remember Haye, don't you? The guy who lost a 12-round unanimous decision to Wladimir Klitschko in a championship match so boring and worthless that the girl who walks around announcing each round retired after the sixth round to enter a monastery and put a little excitement into her life.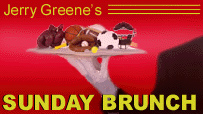 Well, Haye has been talking about retiring in October. Now he says he will stick to that plan -- unless Klitschko gives him a rematch. Yeah, that's what we want. It will be mildly amusing to listen to Haye as we get closer to his Oct. 13 threatened retirement date: "OK, Wladimir, what's it gonna be? I'm almost out the door, Wladimir. I mean it! If my phone doesn't ring right now, that's it! Wladimir? Wladimir!"
Hey, Wladimir, do us all a favor. Don't call.
While Wladimir ponders his decision, we'll note a few other things from the week that was as some of the best writers in the business put the final touches on our main courses in this Sunday Brunch.
• I watched every second of Japan's 1-0 extra-time upset of Germany in the Women's World Cup. My fantasy football friends are planning an intervention.
• So what's attendance going to be for the rest of the World Cup matches in Germany?