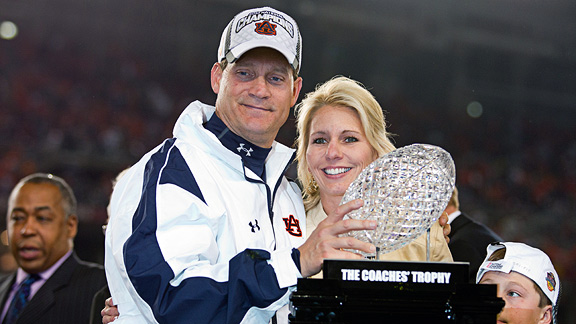 Tom Hauck/Getty ImagesJonna Chizik kept a journal of Auburn football, helping her husband, Gene Chizik, with his book.
LOS ANGELES -- Auburn football coach Gene Chizik is honored to be nominated for the ESPYs Coach of the Year Award, but thinks it's a little awkward.
"It's bit of a Catch-22, really. It's an honor to be recognized by so many people and see my name up there, but it's not really fair," said the 47-year-old Chizik, who is 22-5 at Auburn. "It's not about me. It's about a bunch of special people, my players and coaches. It's very flattering but you have to realize that as coach you're only a very small part of that success."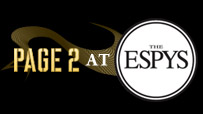 For Chizik, that success took some time.
Born in Florida, Chizik began coaching at Seminole High School in St. Petersburg, Fla., and then bounced -- catch your breath as you read this -- from Clemson as a graduate assistant to Middle Tennessee State as defensive ends coach to Stephen F. Austin as linebackers coach to University of Central Florida as defensive coordinator to Auburn as defensive coordinator and then to Texas as defensive coordinator.
Chizik then got the opportunity to be head coach at Iowa State. He finished 5-19 in two seasons, but the team was steadily making improvements. Auburn came calling and hired him as head coach. It surprised everyone after his poor showing at Iowa State.
That first season at Auburn, Chizik's team went 8-5. And last season, his team, led by Heisman Trophy winner Cam Newton, went 14-0 and won the national title.
And last week, he released a book -- "All In" -- to talk about his rise through the coaching ranks and how it can help others.
"It's really a message of hope and encouragement," said Chizik, whose wife, Jonna, kept notes during the Auburn years to help with the book. "Everybody has their own 5-19. You have to keep doing what you believe in and overcome it."
And Chizik is here in Los Angeles for the ESPYs just enjoying the moment.
"It's going to be nice seeing us on the screen during the nominations but you can't relive the moments, good or bad," Chizik said. "That's life in the coaching world. You never forget, but you have to move on."