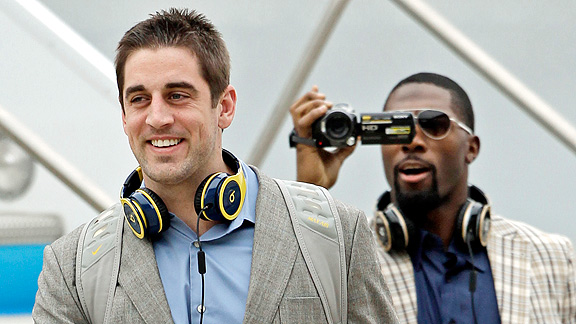 AP Photo/David J. PhillipAaron Rodgers and Greg Jennings are in Los Angeles for the ESPYs this week.
LOS ANGELES -- Greg Jennings, like most NFL wide receivers, can be a little brash on the field.
But, off the field, he's a family man and more humble.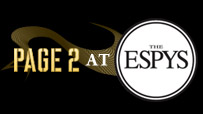 This week, he's in Los Angeles with his wife hoping to watch as his Green Bay Packers and quarterback Aaron Rodgers look to win a few awards at The ESPYs awards show.
"Honestly, to be nominated for 'Best Team,' it's a great accomplishment," said Jennings, who's been with the Super Bowl champion Packers for five years. "There are a lot of great teams out there, the Mavericks, obviously, and the Boston Bruins. To be mentioned with those guys, it's just great to be there."
Jennings said it'd be great to win the team award but he's really rooting for Rodgers, who is up for NFL Player of the Year and Best Male Athlete.
"He deserves every accolade he gets. I'm going to be excited if he wins," said Jennings, who has 322 receptions and 40 touchdowns for the Packers. "When he came in to the league, he was slighted a lot more than he should have been, and then how everything transpired, he has finally gotten it off his back. He deserves this."
And being in the bright lights of Los Angeles doesn't mean Jennings, who grew up in the small town of Kalamazoo, Mich., will be out late with his buddies.
"I'm not a partier. Even if my wife wasn't with me, I'm not a party guy," said the 27-year-old Jennings, who is married to his hometown sweetheart, Nicole. "I have three daughters. I'm in bed by 8 or 8:30 every night. It's a done deal for me."