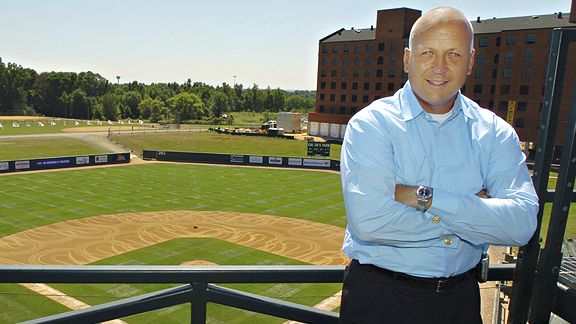 Associated PressCal Ripken is lending his support to a program to benefit a youth baseball program.
Cal Ripken Jr. is ready for the jokes.
"I've heard them all already. Whatcha got?" said Ripken, who has joined the Head & Shoulders "Hats Off" movement, which invites fans to use social media to salute their baseball team and help a worthwhile charity. "I haven't had a full head of hair since who knows when. Maybe I can focus on scalp cleansing. Seriously, I joined because this is a great cause."
Head & Shoulders will make a $10 charitable donation through Tuesday's All-Star Game each time baseball fans use any of the MLB team "Hats Off" hashtags that are listed at the Head & Shoulders for Men Facebook fan page. Donations will benefit Major League Baseball's Reviving Baseball in Inner Cities (RBI) charity program, which establishes and supports baseball leagues in needy communities.
"I really value what this company is doing. I don't just join any group," said Ripken, a baseball Hall of Famer who retired in 2001 after 21 seasons with the Baltimore Orioles. "A lot of people say they give back. But I'm actually interested in doing it."
Ripken has been using the platform of baseball to help grow the game he loves at the grassroots level. After his playing career ended, he started this effort with the construction of a one-of-a-kind baseball complex in his hometown of Aberdeen, Md. The Aberdeen Project consists of Ripken Stadium and the Ripken Youth Baseball Academy.
So it was a no-brainer to join Head & Shoulders.
"Since I left the game of baseball, I've devoted my time to helping others," Ripken said. "It's a cool program and I really love the idea of engaging social media."