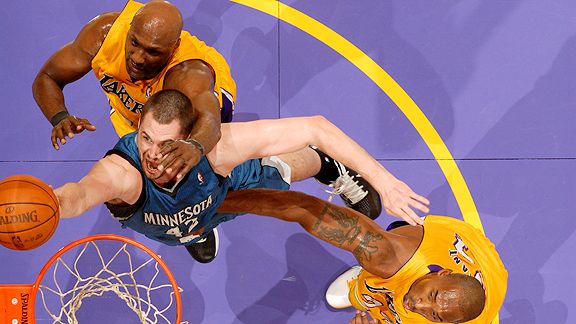 Andrew D. Bernstein/NBAE/Getty ImagesCould Kevin Love be coming to Staples Center someday?
LOS ANGELES -- Kevin Love is, by all accounts, a good chap and, by his own account, kind of a jerk, too.
Back in high school, anyway.
The Timberwolves All-Star admitted as much at the Gatorade High School Athlete of the Year Awards, held Tuesday night, on ESPYs eve, where Love joined Detroit Lions quarterback Matthew Stafford to present the 2011 Gatorade Male High School Athlete of the Year award to pitcher Dylan Bundy, an Orioles draftee out of Owasso (Okla.) High School.
Afterwards, Page 2 sat down with the NBA's top rebounder (and Gatorade's '07 Male High School Athlete of the Year) to talk about his school days, trade rumors and his now-former coach, Kurt Rambis, whose ouster was announced that very day.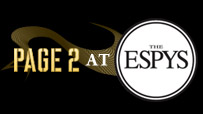 You're a young guy, and you've got the braces to prove it. (Note: yes, Love, 22, wears corrective dental gear.) Feel more comfortable here, with the kids, or with the stars at the ESPYs?
The braces make for uncomfortable moments, but I like to act like I'm older than I am. I'm 22, they're 17 and 18, so I like being at the ESPYs, talking to other players, finding out about their journeys. But I like the atmosphere here. I miss the camaraderie of high school, being around the guys day-in and day-out, hanging with them off the field of play. In the NBA, you see the guys everyday over 82 games. After the game, it's like, "OK, I'll see you later."
What do you miss least about high school?
Math. I was never good at math. I was always on the verge of getting D. I barely cracked advance algebra to get into college.
Most embarrassing memory?
I had a girlfriend my senior year. We were dating for quite a while. She was up for prom queen, and I knew my friends were all going to vote for her so they could see me do the waltz with her. So, to avoid the whole situation, I thought it'd be a good idea to ask my best friend's girlfriend to the prom. It didn't set well with either side. My friend understood the situation but, between the girls, let's just say it wasn't good. There was a bit of a verbal abuse going on between them, and I took some of that heat as well.