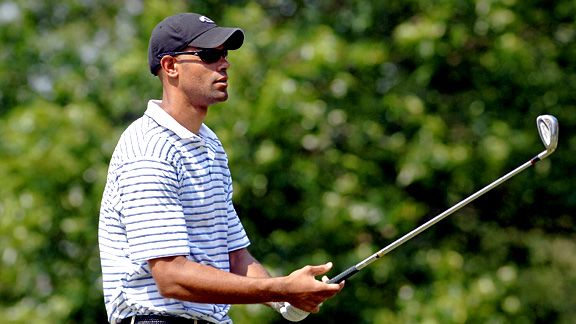 Joe Murphy/Getty ImagesShane Battier didn't attend the ESPYs, preferring to head to Lake Tahoe early to practice.
If the ESPYs had the biggest collection of big-time athletes and movie stars on Wednesday night, then just you wait until Lake Tahoe this weekend.
Michael Jordan, Charles Barkley, Tim Tebow, Jerry Rice and even Jimmer Fredette are competing in the 22nd annual American Century Championship in Stateline, Nev. This made-for-TV event, with a record purse of $600,000, is a 54-hole modified Stableford format. For the sixth year in a row, the Lance Armstrong Foundation is the official charity of the tournament.
NBA free agent Shane Battier, who played last season with the Memphis Grizzlies, is donating $1,000 to his own Take Charge Foundation for each par he makes. His group attempts to inspire a new generation of potential leaders through educational opportunities.
"I don't think donating for birdies would have been the most prudent. I think pars are an attainable goal," Battier said. "I'm in my backyard hitting shots every day. I play about two to three times a week, so I guess you could say I have the golf bug."
Former NFL quarterback Billy Joe Tolliver won last year's tournament, and Battier realizes he probably won't be anywhere near the top this weekend. Last year, he finished 75th out of 83 golfers.
"My goal when I retire is to be a single-digit handicapper. Write it down," Battier said. "Then again, it might be happening this year with all the NBA labor issues."