Dos Equis has it all wrong.
The beer's advertising campaign cast actor Jonathan Goldsmith as the "Most Interesting Man in the World," but if an actual, real-life Casanova were to be named, one who breathes elusive mystique, sporting prowess and, of course, a full face of impassable grizzle, the distinction would belong to renowned South African explorer Mike Horn.
In fact, it's hard to distinguish Horn's actual résumé from the character in the mythical TV spots.
His beard alone really has experienced more than a lesser man's body.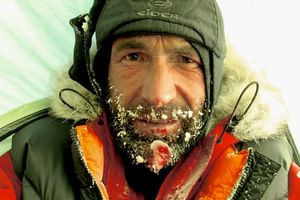 Courtesy of PaneraiMike Horn and his much-traveled beard.
He once walked out the front door of a camp on the equator, and 18 months later, after the circumvolution of the globe at latitude zero on foot, bicycle, canoe and sail, he entered through the back door.
He speaks fluent Afrikaans, English, Spanish, German, French, Russian and Dutch … in a mellifluous Cape Town accent.
When he was 28, he had a huge party to give away his house, his car and all of his belongings before up and moving to a foreign country -- sight unseen -- on a standby ticket.
His blood smells like cologne.
He walked across Siberia for one and a half years. Alone.
His hands feel like rich, brown suede.